1st - 4th October in Hanover / Germany
Tribal-Festival Hannover 2020
12th  International Tribal-,  BellyFusion & World Dance  Festival

Rachel Brice – Single Workshops

Registration starts on February 15th, 2020 at 10:00am CET.

Thursday 3pm – 6pm

Costs: 90 €

Time Bender – Workshop



From slow to fast and back again.
Learn combos that manipulate spacetime.
We'll warm up, drill fundamental isolations that are suitable for all levels, and learn combos that incorporate those isolations.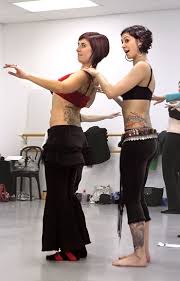 Sunday 3pm – 5pm

Costs: 60 €

Tricky-Gooey-Shimmy: Guiding Priciples of Datura Style™ – Workshop



Combine American Cabaret and Fusion styles of belly Dance with a heady dose of rhythmic trickery, contrast, and dramatic quality changes. Chill. Lay these on a bed of rib cage circles, seemingly boneless arm work, and huge, relaxed hips for a double-layered-triple-threat. Serve hot.

(Intermediate through advanced class.)