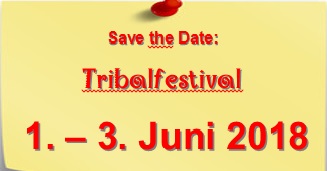 June 9. - 11. Hanover / Germany
Tribalfestival Hannover 2017
10th  International Tribal-,  BellyFusion & World Dance  Festival

Exhibitors Application

Application / Query: asmahan@asmahan.de
In 2017 we'll have as usual on Saturday and Sunday the Basaar, the Saturday Night Tribal Show, lots of Workshops, Open Stage and Contest in the venerable neo-gothic hall and the training rooms of the Turn Klubb zu Hannover.

Venue
TKH – Turn Klubb zu Hannover
Maschstraße 16
30169 Hannover / Germany

Friday, June 9th
Opening Show in the Circus Salto
Same street as the TKH itself – in the backyard of the TKH

Zirkus Salto am Haus der Jugend
Maschstr. 22 – 24
30169 Hannover / Germany

Placing the Stage and Exhibitors

The stage is located in the center of the hall, so the stalls in that place have to be removed for the Saturday Night Show.

At the edges the stalls can remain all the time.

The space between the pillars amounts 4 meters each.

Schedule 2017
Friday, June 9th
4pm – 22.30h            assembly of the exhibitors / Bazaar at the circus tent
7.30om – 10.30pm    Festival Opening Varieté Show


Saturday June 10th                   
 8am – 12am           assembly of the exhibitors / stage
12am – 5.30pm       Doors open for Bazaar, Open Stage, Workshops
5.30pm – 7pm         changing for Night Show
7pm  –   19.00         Doors open for Night Show / Bazaar
7.30pm – 11pm       Show / Bazaar during the breaks

Sunday June 11th                    
11am                  Doors open for Bazaar, Contest, Open Stage
4.30pm               Finale Contest
5pm                    Close Festival / removing the Bazaar