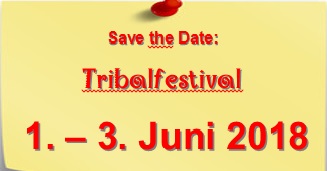 June 9. - 11. Hanover / Germany
Tribalfestival Hannover 2017
10th  International Tribal-,  BellyFusion & World Dance  Festival

Call for Open Stage – How to apply
Step 1
1.
Please send us an short informal application by e-mail to: asmahan@asmahan.de
Inclusive your complete contact address
Inclusive what you would like to perform
2.
Please attach 2-3 photos
Photos have to be send in high resolution up from 1 MB
Photos have to be named like below:
Name of the dancer_short personal description_name of the photographer
Example 1:  Ensemble Marrakesch_costume red_photo A. Elbing
Example 2:  Eliana Solo_London 13.04.2016_photo A. Elbing
3.
Conditions
Performance time on stage: maximum 3 – 5 minutes
Open Stage performance slot reservation requires to sign up workshops
Solo performer:            Please sign up at least one (1) workshop
Group performer:         50% of ensemble members will be ask to sign up at least one (1) workshop
Workshop schedule and booking form will be online up from 10th April
Please check out our webpage.
4.
Reservation confirmation

After we got your application we will send you a RESERVATION CONFIRMATION
So your performance slot at the TF Open Stage is fixed for you.
Step 2
Mid of May you get an application form with the final Open Stage times. There you have to specify your desired performance times.
End of May you will get your final information with your performance time slot and all information you need.
Please check out for updates also:
https://www.facebook.com/TribalfestivalHannover/