World of Orient    21. Edition
International Festival for Oriental Dance, Music and Culture 06. – 08.03.2020
Prizes Contest WoO Cup 2020
Win a Free registration / Value of $600
Jillina's BDExperience (BDEx)
The Wonderful Wizard of the Oz
Free registration for one of Jillina's BDExperience events in Europe - either BDEx Frankfurt or BDEx Denmark
BDEx Frankfurt, Germany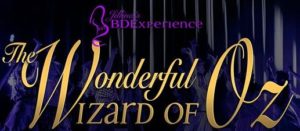 May 27, 10:00 AM – May 31, 8:00 PM
Of-Dance Academy, Frankfurt, Germany
BDEx Copenhagen, Denmark
Nov 02, 10:00 AM – Nov 06, 10:00 PM
Danish Open Bellydance Festival, Copenhagen, Denmark
---
What´s (BDEx)
BDEx is the BDE's training program for intermediate to professional bellydancers.
Dancers are selected via an online application and audition process.
They receive 4-6 weeks of online training in advance of 4 rehearsal days and the final performance.
Attention: Limited participants

More information: https://www.bellydanceevolution.com/bdexperience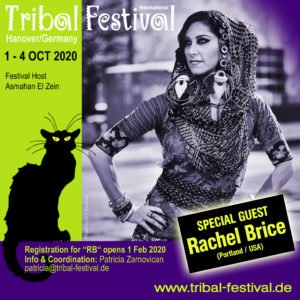 October 2020
Rachel Brice in Germany
@ Tribalfestival Hanover Okt. 2020
www.tribal-festival.de
Win one of the following prizes:
12h Rachel Brice Intensive (Thu - Sun)

3h Workshop (Thu) Topic: Time Bender

2h Workshop (Sun) Topic: Tricky-Gooey-Shimmy

2 Show Tickets

for the Sat. Night Show featuring Rachel Brice

One of 2 Show Performance Slots

for the Sat. Night Show featuring Rachel Brice
March 2021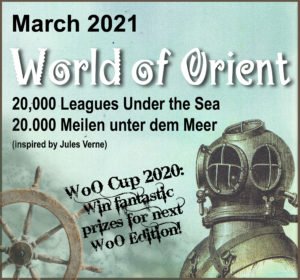 World of Orient
WoO Show-Production: 20,000 Leagues under the Sea
(WoO Show-Produktion: 20.000 Meilen unter dem Meer)
Inspired by Jule Verne
Invitation as WoO WS instructor

3 - 5 x Performance Invitations for Friday Evening Show "Captain's Dinner"


3 - 5 x Performance Invitations for Saturday Night Gala Show "Fantastic Sea World"
For adults - Solo / Group / Duet  (all disciplines)
For Kids / Juniors: Solo / Group (all disciplines)
---
Who was Jule Verne: https://de.wikipedia.org/wiki/20.000_Meilen_unter_dem_Meer
Miss Mermaid Cup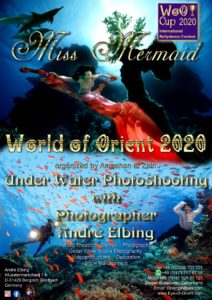 This very special price of the World of Orient "Miss Mermaid 2020" is awarded by the internationally best known photographer for oriental dance art - André Elbing - to the most special, interesting and graceful dancer. With this award André Elbing - photographer and diving instructor for over 30 years - supports the artists to create an absolutely extraordinary portfolio of the extra class. Imaginative and wonderful moments are professionally staged on and in and under water. A unique unforgettable experience for the art and that special moment!
Der sehr spezielle Sonderpreis der World of Orient "Miss Mermaid 2020" wird von dem international bekanntesten Photographen für orientalische Tanzkunst André Elbing an die besonderste, interessanteste und graziöseste Tänzerin verliehen. Mit diesem Preis unterstützt André Elbing - Photograph und Tauchlehrer seit über 30 Jahren - die Künstlerinnen, ein absolut außergewöhnliches Portfolio der Extraklasse zu kreieren. Phantasievolle und wunderschöne Momente werden professionell am und im und unter Wasser in Szene gesetzt. Ein einmaliges unvergessliches Erlebnis für die Kunst und den besonderen Moment!
...more prizes online next week