World of Orient    2019
International Festival for Oriental Dance, Music and Culture 08. – 10.03.2019
1h  Open Classes Sonntag 10. März
kostenfreie Schnupperklassen im Messegebäude

1h Open Classes Sunday March 10th
free Impulse Workshops at the trade fair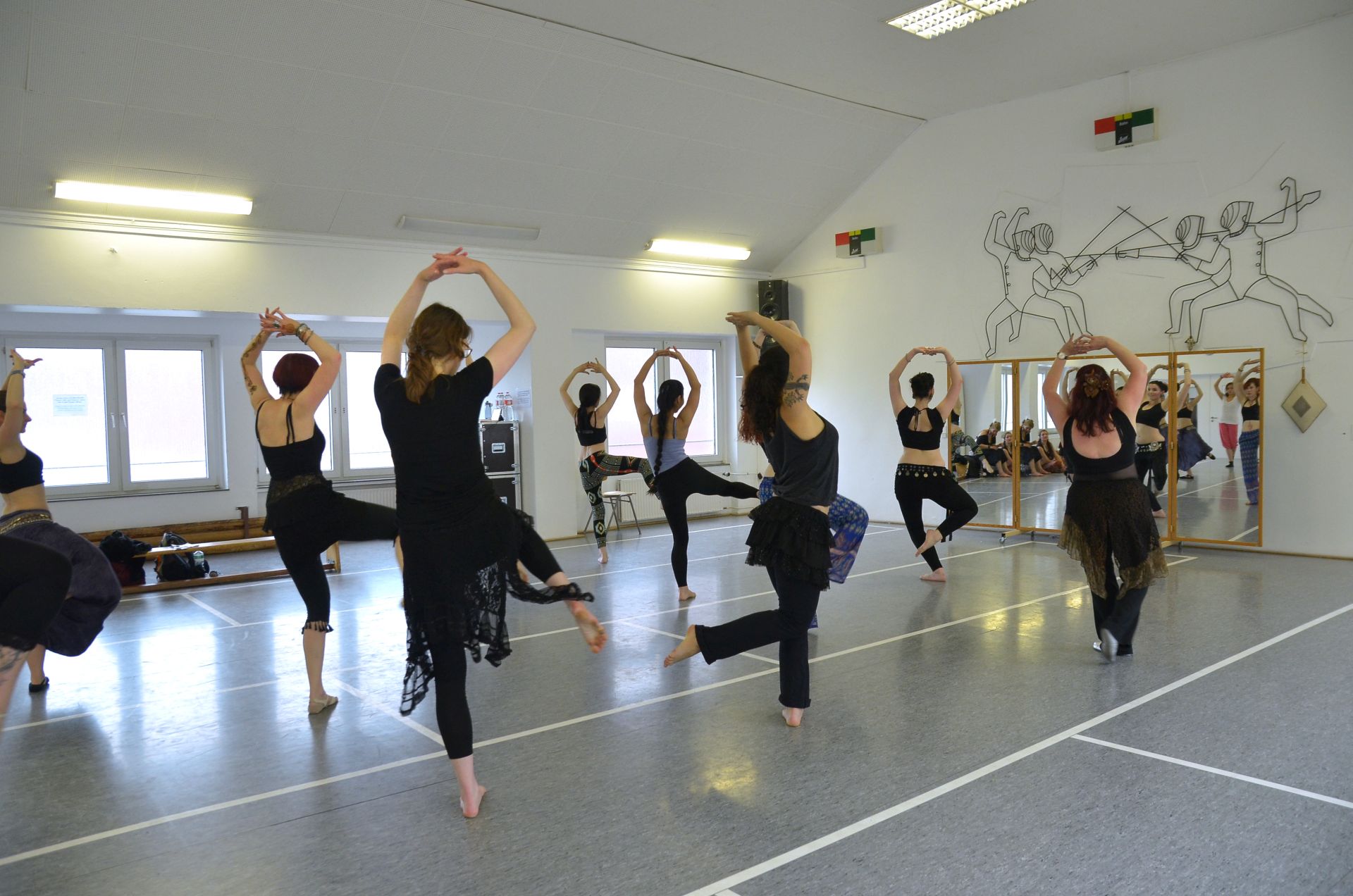 ---
Abeer Will (EGY/GER)

BATO® Teaser BALADI
Für alle, die es wirklich wissen wollen!
BATO®, ein Ausbildungskonzept des Bundesverbands Orientalischer Tanz e.V. (BVOT)
Die Ägypterin Abeer Will ist die Spezialistin und bietet Euch die Gelegenheit Euch von der Komplexität und inhaltlichen Tiefe dieses Themas infizieren zu lassen und zu erleben, wie der Baladi die Verbindung zu Eurer weiblichen Mitte herstellt.
BATO® Teaser BALADY
You really want to know it?
BATO®, a education program by the Federal Association for Oriental Dance e.V (BVOT – Registered Association)
Abeer Will, native Egyptian, offers the opportunity to let yourself be infected by the complexity and depth of this matter and to experience how BALADY leads you to your center of femininity.
---
Abby

Tribal Fusion Combinations – Technic for OT & Fusion Dancers
Offenes genre-übergreifendes Tribal Fusion Kurzseminar.
Es werden Tanzbewegungen und deren Technik entwickelt, welche zu kleineren Kombinationen zusammengefügt werden. Um das Musikgefühl zu steigern, wird es kurze Improvisations–Aufgaben geben, um die Musik zu interpretieren.
Abby ist sowohl als Lehrerin wie auch als Solistin und mit der Gruppe "Glass Eaters", (KoRaBo, Taramo) auf der Bühne aktiv.
Open Cross Over Tribal Fusion class for interested Oriental and Tribal/Fusion dancer.
Dance movements and their techniques will be developed, which will be put together to smaller combinations. In order to increase the musical feeling there will be short improvisation tasks to interpret the music.
Abby is active as a teacher as well as a soloist and part of groups like "Glass Eaters", KoRaBo, Taramo. 
---
Latifah Abdel (ESP/GER)

The Power of Positivity – Überzeugend auftreten & performen
Positive Gedanken und positive Energie sind das A und O, wenn wir auftreten oder etwas präsentieren möchten. In dieser "Open Class" beschäftigen wir uns u. a. mit Wahrnehmungs- und Atemübungen, um das Beste aus uns rauszuholen. Bitte bequeme Kleidung und Socken mitbringen.
Die Nordspanierin Latifah Abdel ist eine vielseitige Tänzerin, die fest daran glaubt, Kunst kenne keine Grenzen. Sie leitet in Karlsruhe ihr eigenes Studio " OMNIA-Studio für Tanz & Bewegung".
Positive thoughts and positive energy are the true keys when performing. In this workshop we will carry out some perception, movement and breathing exercises to let our inner star shine. Please, bring comfy clothing & socks.
The Spanish artist Latifah Abdel is a versatile dancer who truly believes art has no boundaries. She owns the studio "OMNIA-Studio für Tanz & Bewegung" in Karlsruhe. 
---
Yela (GER)

Saidi Session für Einsteiger

Verschiedene kurze Saidi-Kombinationen von einfach bis aufwendiger, die ihr gut in eure eigenen Choreos einbauen könnt. Technik & Kombis. Bitte Stock mitbringen oder ggf. auf der Messe ausleihen.
Level offen.
Saidi Session – Introduction for starter 
Various short Saidi combinations from simple to hard, which you can easily integrate into your own choreos. Technology and station wagons. Please bring your own cane or borrow it at the trade fair.
---
Inci (GER)
 Orientalischer Tanz – Mit-TANZ-Aktion für Alle!

Macht mit, wenn ihr ungezwungen den Orientalischen Tanz kennenlernen und ausprobieren wollt! Für jede/n geeignet, keine Vorkenntnisse erforderlich, normale Straßenkleidung geht in Ordnung.
Dance activity for all visitors!
Join us if you want to get to know and try out Oriental Dance! Suitable for everyone, no previous knowledge required, normal street clothes are fine.
---
Suhana (GER)

"BodyFühling" – Impulse zur Selbstheilung
Vorstellung des neuen Programms "BodyFühling nach der Runa-Methode". Setzt Impulse zur Selbstheilung.
Suhana, Tänzerin und Dozentin für orientalischen Tanz und Kultur, hat durch ihre langjährige Unterrichtstätigkeit und dem Studium zur tiefenpsychologischen Körpertherapeutin das neue Programm "BodyFühling nach der Runa-Methoder" ins Leben gerufen.
"BodyFühling" Impulses for Self-Healing
Perceiving your body and feeling like in spring.
The presentation of the new programme "BodyFühling" according to the "Runa-Method" gives impulses for self – healing.
---
Shazadi Simone Paulyn (GER)

Gesunde (Tänzer)Füße – Tipps & Übungen
Schmerzfreie Füße sind unsere (Tanz)grundlage! Einen Überblick über typische Fußdeformitäten sowie Tipps und einige Übungen erhaltet Ihr in diesem interaktiven Vortrag.
"Das allerschönste was Füße tun können ist tanzen!" (Kermit der Frosch)
Shazadi ist mit Leidenschaft seit über 20 Jahren Tänzerin & Physiotherapeutin. Wer hat, bitte einen Tennis- oder Faszienball  mitbringen.
Healthy dancer's feet – Tipps & Excercises
Feet without pain are our basis for dancing. Which deformities exist, why do they develop and what are we able to do? You will get an overview as well as tipps in this interactive presentation.
Shazadi is a passionate dancer and physiotherapist for more than 20 years. Who has, please bring a tennis or fascia ball.
---
Calaneya (GER)

ATS® zum Verlieben – American Tribal Style Einführung
Lernt die Basics dieser aufregenden Mischung aus nordafrikanischer Folklore, Flamenco und indischem Tanz kennen, erfahrt die ersten Tricks für gelungene Gruppenimprovisation und habt eine Menge Spaß dabei!
Fall in Love with ATS® – Introduction to American Tribal Style

Have a great time learning the basics of this fascinating mix of Middle Eastern folkloric dance, Flamenco, and Indian dance, while discovering the first secrets of group improvisation!
---
Josefine Wandel (GER)

Professional Stage Make Up

Josefine zeigt die Basics eines effektiven und gelungenen Bühnen Makeups. Themen wie Foundation, Contouring und Highlighting, Möglichkeiten für verschiedene Augen-Makeups sowie Tipps zum Anbringen falscher Wimpern werden besprochen. Auf Grund der geringen Zeit ist es nicht möglich, vor Ort zu schminken. Josefine wird die einzelnen Schritte erklären, Produkte zeigen und mit einer Power Point Präsentation Inspirationen geben. 
In this short workshop Josefine is explaining the basics of an effective and successful stage makeup. Themes likes foundation, contouring, highlighting, different eyemakeups and applying of false lashes are going to be covered. 
Josefine will briefly explain the single steps, show some Makeup products and give you inspiration with a Power Point presentation.